London, 11 September 2003
---
Taiwanese nationalism makes a comeback
---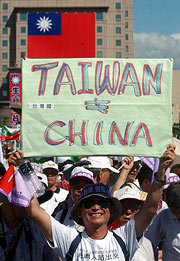 SINCE Taiwan's Democratic Progressive Party (DPP)won the presidential election three years ago, it has found life in government too difficult—hedged in as it is by an economic slump and the desire to annoy neither enemies in Beijing nor friends in Washington and Tokyo—to pursue its traditional agenda of pushing for independence from China.
But nascent nationalism has now returned to the fore. On September 6th, up to 150,000 people took to the streets—the largest demonstration Taipei has ever seen—to have government agencies, companies and private institutions which use China in their names replace it with Taiwan.
The instrument of this revived national conscience is not the DPP but a former president, Lee Teng-hui, once chairman of the Chinese Nationalist Party, or Kuomintang (KMT), which governed the island for half a century. Mr Lee, now alienated from his former party, is at the forefront of a new movement to change the island's official name from the Republic of China—a name it inherited along with the Chiang Kai-shek regime in 1949—to Taiwan.
Is there, perhaps, a punchier Taiwanese nationalism now in the offing, which could destabilise the situation in the region? The same week as the demonstration, the government started issuing new passports with the word "Taiwan" added to their covers, beneath the formal Republic of China designation. But it argues that this is a purely practical matter. Well-heeled Taiwanese are fed up with carrying passports so easily confused with those of the poverty-stricken economic migrants from across the Taiwan Strait. Despite sympathy for Mr Lee's campaign, the government has kept its distance. It has no intention of acquiescing in the demands of the former president and his supporters. In any case, for the most part it can't, lacking the weight in both the legislature and the National Assembly (which changes the constitution) to get its way against the KMT-led opposition.
On the other hand, the name-change campaign is seen by some as a convenient stratagem designed to mask the government's impotence over real policy in the run-up to a presidential election next March. But there is some substance to it. The pro-independence campaigners see the election as crucial; if they lose it, they fear the KMT will reunify with China along "one country, two systems" lines. In opposing the "Call Taiwan Taiwan" movement, the KMT and its unificationist allies fall back on rhetoric and imagery that are deeply offensive to large numbers of voters. They dislike, for instance, the attempt to resurrect the Chiang family personality cult: many Taiwanese recall Chiang Kai-shek as a murderous oppressor. The government may indeed have trouble defending its record. But if ex-President Lee—still Taiwan's wiliest political strategist—has his way, it is the KMT that will spend the campaign defending the indefensible.